We recognize that NeuroMab users have experienced a substantial increase in prices due to an unanticipated change in policy at our UC Davis-contracted distributor. We apologize to the NeuroMab user community for this price change that was instituted unilaterally without consultation or notice. NeuroMab monoclonal antibodies are available from numerous sources at many different price points. Please search online for availability of specific monoclonal antibodies using the term "monoclonal antibody" and the clone number (e.g., monoclonal antibody K28/43). We are working diligently to identify a dedicated low-cost distributor for NeuroMabs.
NeuroMabs are validated for biochemical and immunohistochemical applications in mammalian brain samples, including immunoblotting, immunohistochemistry and array tomography. For perspectives on application-specific antibody validation see Taussig et al., New Biotech 45:1, 2018. PubMed.
For information on NeuroMab validation see Gong et al., New Biotech 33:551, 2016. PubMed. See detailed sample preparation and labeling protocols used for NeuroMab validation.
Plasmids encoding recombinant NeuroMabs are now available from Addgene. For background information on NeuroMabs that have been cloned and expressed in recombinant form, see Andrews et al., eLife 8:e43322. PubMed.
New fee-for-service rates are available for your own antibody generation and validation needs.
See publications list for peer-reviewed papers showing data obtained with NeuroMabs, now over >3000 publications!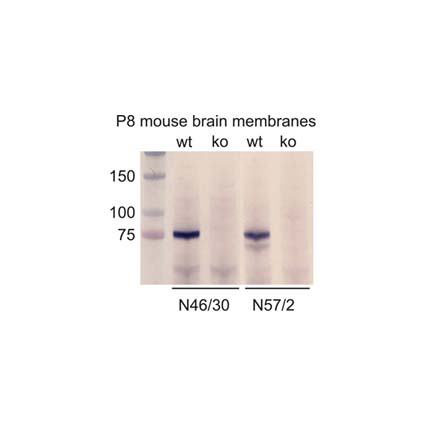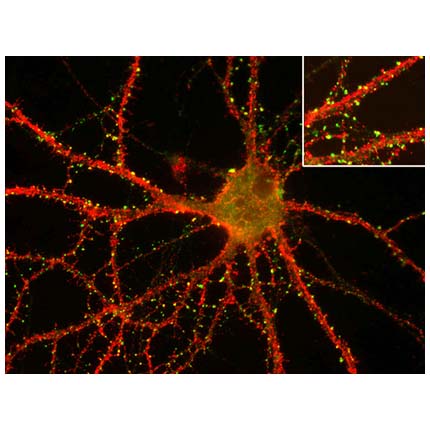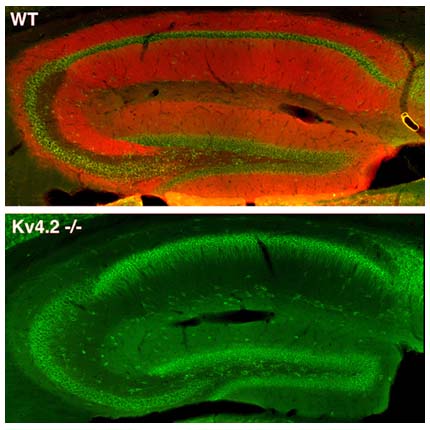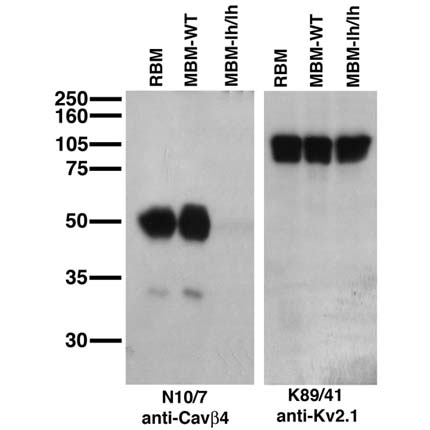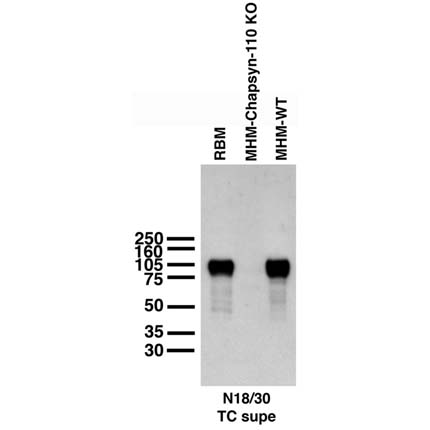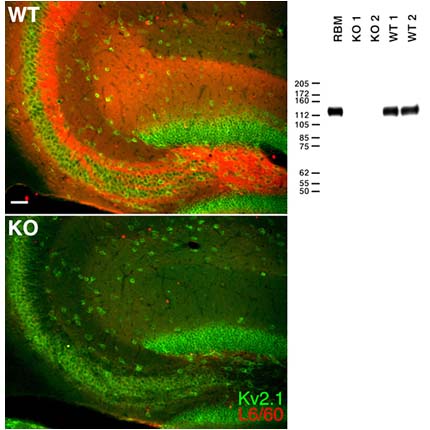 Immunoblot against membranes from postnatal day 8 wild-type (wt) and ADAM22-knockout (ko) mice probed with N46/30 (left, ADAM22-cytoplasmic) and N57/2 (right, ADAM22-extracellular). Data courtesy of Dies Meijer (Erasmus University Medical Center). Immunofluorescence staining of cultured rat hippocampal neurons with K28/43 (green, PSD-95) and K57/1 (red, Kv4.2) Immunofluorescence staining of adult wild-type (WT, top) and Kv4.2 knockout (Kv4.2-/-, bottom) mouse hippocampus with K57/1 (red, Kv4.2) and Kv2.1 rabbit polyclonal (green) Immunoblot against brain membranes from adult rat (RBM) and adult wild-type (MBM-WT) and lethargic (MBM-lh/lh) mice probed with N10/7 (left, Cavbeta4) and K89/41 (right, Kv2.1). Lethargic mice courtesy of Jeffrey Noebels (Baylor College of Medicine). Immunoblot against membranes from adult rat brain (RBM) and hippocampi from adult wild-type (MHM-WT) and Chapsyn-110 knockout (MHM-Chapsyin-110 KO) mice probed with N18/30 (Chapsyn-110). Mouse samples courtesy of Richard Huganir (Johns Hopkins University, Howard Hughes Medical Institute) Immunofluorescence staining of hippocampal CA3 of adult wild-type (WT, left top) and Slo1 knockout (KO, left bottom) mice with L6/60 (red, Slo1) and Kv2.1 rabbit polyclonal (green). Immunoblot against brain membranes from adult rat (RBM) and adult WT and Slo1 KO mice probed with L6/60 (right, Slo1)